The Manitou Incline, aka Manitou Springs Incline or The Incline, is a difficult and strenuous hike up what used to be a arrow gauge railway. It is in the town of Manitou Springs near Colorado Springs below Pikes Peak. For years people climbed it illegally until it was refurbished as a popular hiking location consisting of steep steps over about a mile (about .88 mile). For anyone who loves a physical challenge, the Manitou Incline is a must do if visiting Manitou Springs or Colorado Springs, Colorado. Here is everything that you need to know to climb the incline.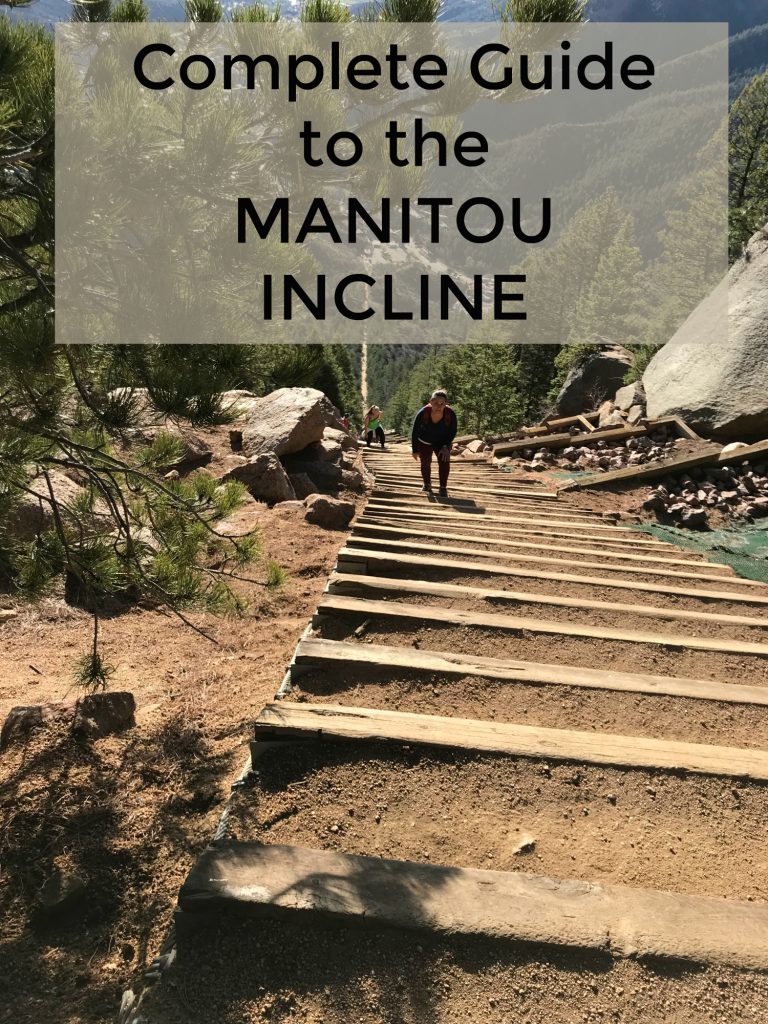 I recently climbed the incline as part of a training trip to Manitou Springs to get vertical training for the Bigfoot 200 race. It was a fun trip and my first time back at altitude since my Grand Canyon R2R2R run the previous fall. My friend and I did the incline and then ran down Barr trail. I will include some other hiking, trail running, and travel tips for Manitou Springs at the end of this post. But first, I want to cover the common questions that arise about the Manitou Incline.
FAQ About the Manitou Incline
Just the basic manitou incline facts. Common factual questions about the incline are covered here.
The Manitou Incline, how many steps? Even thought he top step of the incline shows the number 2768, there are approximately 2,744 steps on the Manitou Incline. There are also numbered steps on the way up at times so you can either be excited, or worried, depending on your mood, about how much further you have to go. The exact number of steps change because of repairs and construction.
The Manitou Incline distance: At .88 mile, the incline is just about a mile long and rises 2,090 feet in elevation gain from the bottom to the top.
Manitou Incline altitude and elevation: The bottom of the incline is at 6,500 feet and the top at 8,590.
How many hours to complete the Manitou Incline? This depends on your physical fitness and how fast you try to go. My friend and I took over an hour to climb it because we took frequent rest breaks, but others run up it in a matter of 30 minutes or so. Those who are out of shape and/or are not used to altitude could take over two hours. This leads to the next question:
What are the Manitou Incline records? The listed fastest known time (fkt) for Men is 17:45 and Women is 20:07. The Inclination, consist of 13 trips has a record of 10 hours 34 mins. I also saw a sign (pictured below) listing the record as 16:42, but I can't seem to verify it.
A Guide to Hiking, Running, or Climbing the Incline
First off are the basics.
Manitou Incline Address and Directions
The address for the incline is listed as 506 Ruxton Ave, Manitou Springs, Co. From I-25 in Colorado Springs, take exit #141 (US 24), go west toward the mountains on US 24 for four miles to Manitou Avenue exit. Go west on Manitou Avenue one and one-half miles to Ruxton Avenue, then turn left and go to the top of Ruxton Avenue to the Cog Railway Depot. The incline is across from this. But parking is a challenge, see below!
Manitou Incline Parking
Parking at the Barr trail lot by the incline is difficult and is $10 per hour. And they do ticket. I saw the police out in full force issuing parking tickets all across Manitou Springs the weekend I was there. But you can park for $10 total at the Iron Springs Melodrama for $10 or better yet, take the free shuttle.
Free parking is offered at the park at 10 Old Man's Trail in Manitou Springs, with free shuttle service to the Incline. My friend and I stayed right across the street from this and took the shuttle. We then took the Intemann trail back to behind our hotel and walked down side streets from the trail to our hotel.
Manitou Incline Weather
Weather varies greatly at the Manitou Springs Incline. While it is not recommend to hike the incline in snow, many people do so. Be aware that storms can roll in suddenly in the mountains in summer. Ideally, keep a watch on the Manitou Springs weather.
Maintou Incline Death and Dangers
death on the incline has happened and search and rescue has been called to help people in trouble on it. Read more about that here.
OK Let's Get Running, Hiking or Climbing The Incline!
The bare bones basics are to give yourself lots of time to complete the incline. The steps are uneven, steep and angled at times. Move over for faster people and take frequent rest breaks if needed. Carry plenty of water and perhaps some food. Dogs are and hiking at night are prohibited but you will see both occur. It is easier to descent down Barr trail than to go back down the incline. Now for the incline tips in more detail.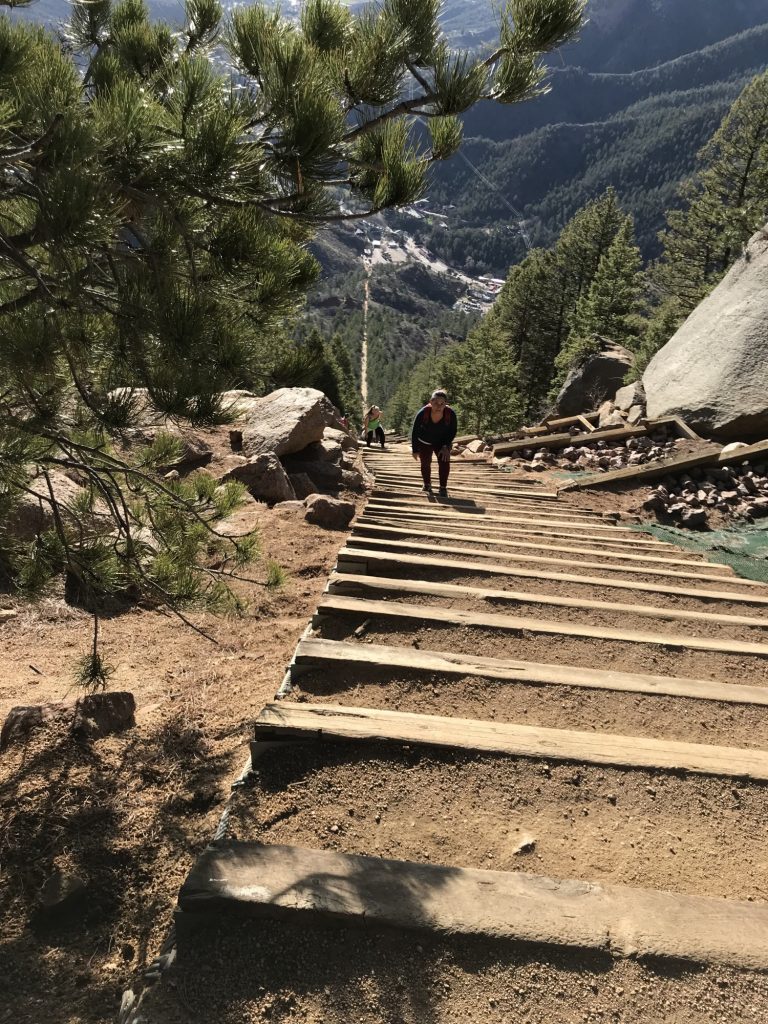 Carry Water and Food
There is no place to obtain drinkable water on the incline, and normally not anything without taking a detour off of Barr trail, and even then you would need a filter to treatment tablets. It is often recommend to take more water than you think you will need. Hydration at altitude and when exerting yourself is important. There is a coffee shop right at the base of the trail that sells water and souvenirs. But if you go early it might not yet be open, so bring plenty of water from the start!
Go Early
The earlier you start, the less crowded the incline will be. Also, as the sun comes up, it can get very hot on the incline, even in cooler weather. Going early helps you beat the heat.
Take your Time and Take Frequent Rest Breaks if Needed
There are numerous places that allow you to step off of the incline and rest. You will see flat areas to the sides of the steps. Simply step off and even sit down if you need to rest. Take your time! Allow your breathing to slow back down before starting again.
Use The Barr Trial Bail Out if Needed
There is a Barr Trail Bailout about two-thirds of the way up. It has a bench and is well marked. You can leave the incline here and walk down Barr trail if you desire.
Hands on Quads/Knees and Steps
Putting your hands on your quads or above your knees as you step can help make the steps feel easier. At times the steps are steep enough that you may find yourself climbing them like a ladder by placing your hands on the next step.
Beware the False Summits
There are several false summits on the incline. So just because it looks like the top is coming up, it might not be! It is evil that way.
Take Barr Trail Down
Descending the incline is not the safest endeavor, nor is it easy with the masses of people coming up. Instead, head back on Barr trail, which is also a pretty hike. You will see a sign about it being dangerous to run down Barr trail. You will also see plenty of people running. I am a trail runner, so I did indeed run it.
Manitou Springs Travel and Trails
If you are traveling to do the incline or to generally hike or trail run in the Pike's Peak area, I recommend the America's Best Value Inn Villa Motel. It is older, but affordable and clean with lovely staff. And it is right across the street from the free shuttle! For some great food and beer after your climb, check out the Manitou Brewing Company. We really enjoyed their food and drink.
For other nice trails in the area, we took Barr trail up past Barr camp and the Intemann trail that runs behind town and the East up Iron Mountain (which we summited) and over to the Red Rocks Open space with many more trails. It is quite nice.
Enjoy your trip and climb safely!