I love getting somewhere warm in winter! Several years ago, my husband and I took a long weekend and visited the Hyatt Zilara Rose Hall in Montego Bay Jamaica. Hyatt Zilara is an adults only, all inclusive resort. The one in Jamaica is paired with Hyatt Ziva, a family oriented all inclusive resort.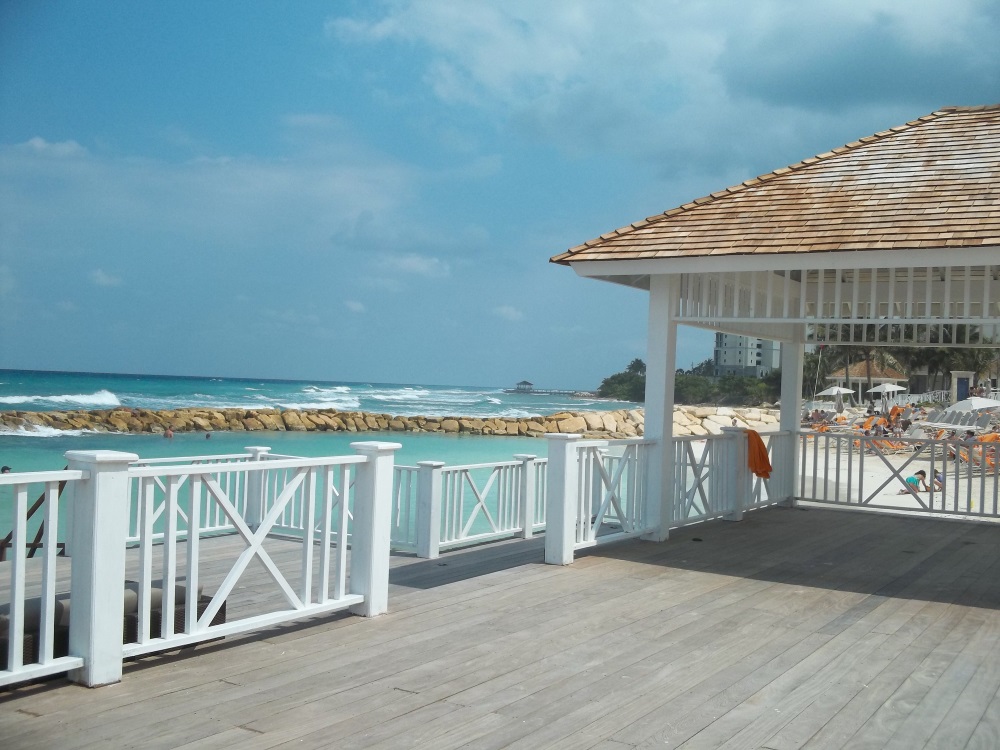 A portion of the resort consists of a remodeled Ritz Carlton property, while other portions are new construction. Guests at the Zilara can also use the facilities on the Ziva side of the resort. This review is a revision of my previous review on my blog Beauty and Fashion Tech, where additional photos can be found, including photos of the restaurant menus.
All photos are my original works.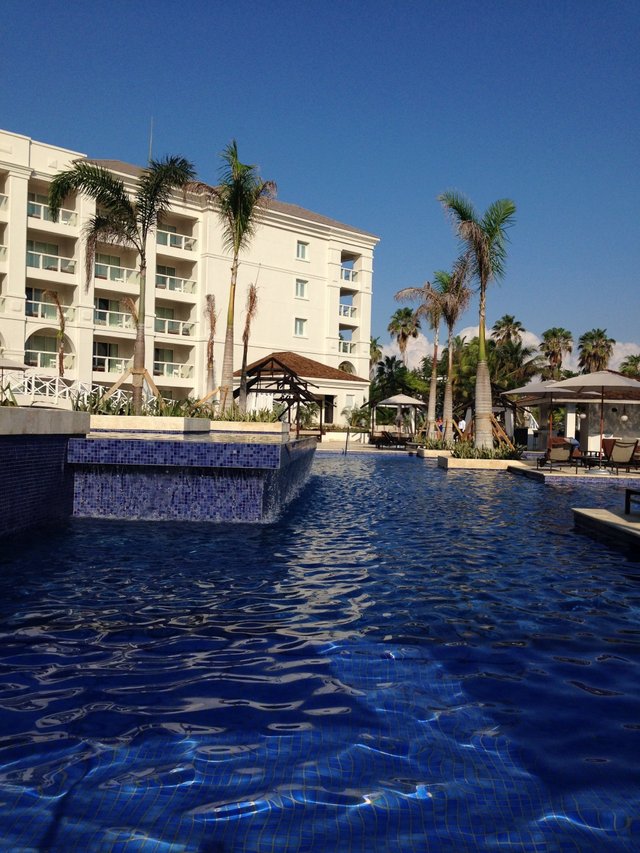 Traveling to Montego Bay? Use Club Mobay!
We flew Southwest Airlines to Jamaica with a direct flight from Chicago Midway . The key to easy arrival in Jamaica is to book Club Mobay. This is a VIP fast track service and lounge at the Montego Bay airport (they also have a Kingston location). We paid $50 per person arriving and $30 departing. Club Mobay met us at the gate and wisked us through immigration, customs, and security, all utilizing VIP lines. Arriving, we bypassed lines that would take over an hour and we arrived at the Hyatt airport lounge in about 25 minutes. Departing, the line for security was huge, but we fast tracked though in about 5 minutes. We then went to the private VIP lounge where we enjoyed included snacks, drinks, and WiFi while we waited for our flight.
Accommodations
We stayed in the newer portion, which is what I recommend, as the rooms in the older building are smaller and more dated. Our room was an ocean front junior suite that was spacious and gorgeous. The feel is quite European, with a sliding glass door between the living area and the bathroom. The bathroom was quite nice with two sinks, private water closet, a big separate deep tub, and a rainfall shower that also had a regular shower head that could be detached and hand held.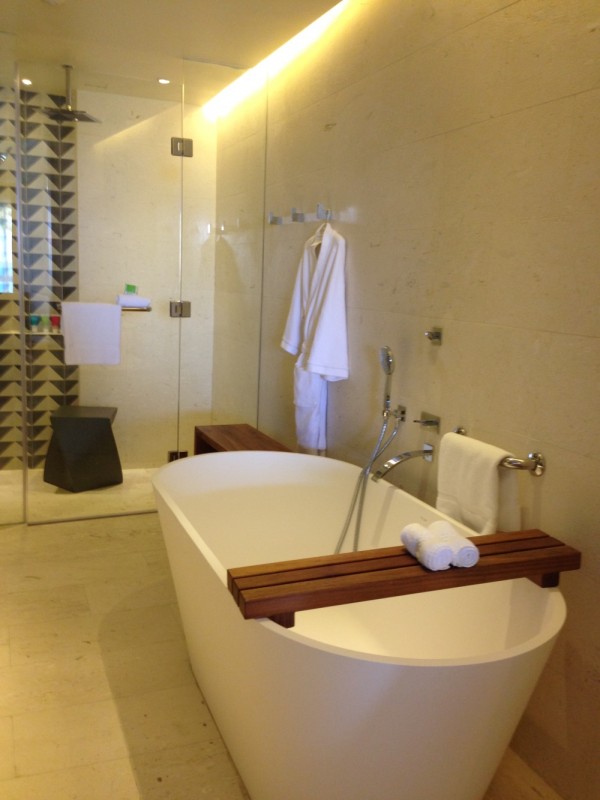 The room's balcony included a wonderful double lounge that we used quite a bit in the afternoons. The doors to the balcony also opened fully wide. We slept with the doors open in order to enjoy the breeze and hear the ocean. Insects were not a problem.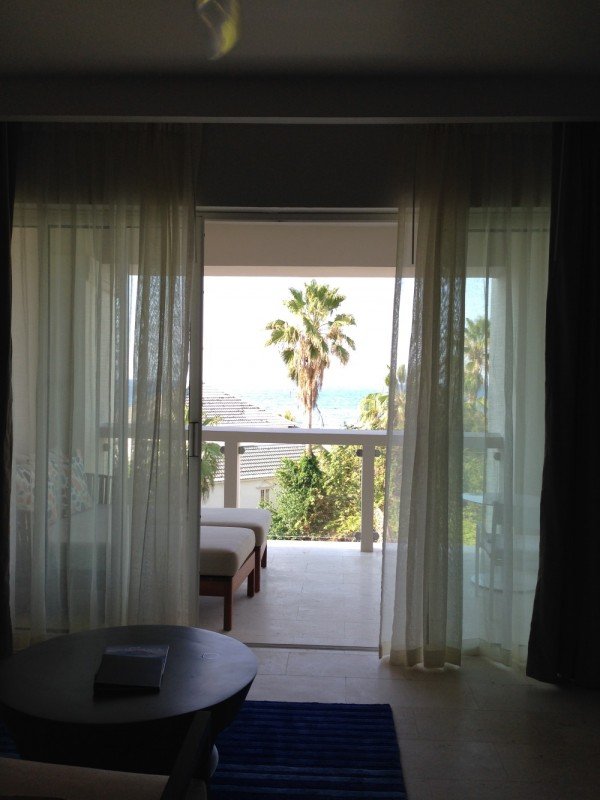 The bed was comfortable. Air conditioning was adequate. It would not go lower than about 65 or so, which is fine for most. There was plenty of closet space. The refrigerator was kept well stocked daily, although my requests for champagne were ignored. I find that typical of most all inclusive resorts and I got plenty of champagne at the bars.
Grounds, Beach, and Pools
The Zilara grounds are beautifully planted. However, the beach is small. Thus, I would not recommend the Zilara if a large walkable beach is a requirement for you. The beach is serviceable, however, and has a breakwater wall to provide a calmer swimming area. A beautiful dock and gazebo is included next to the beach.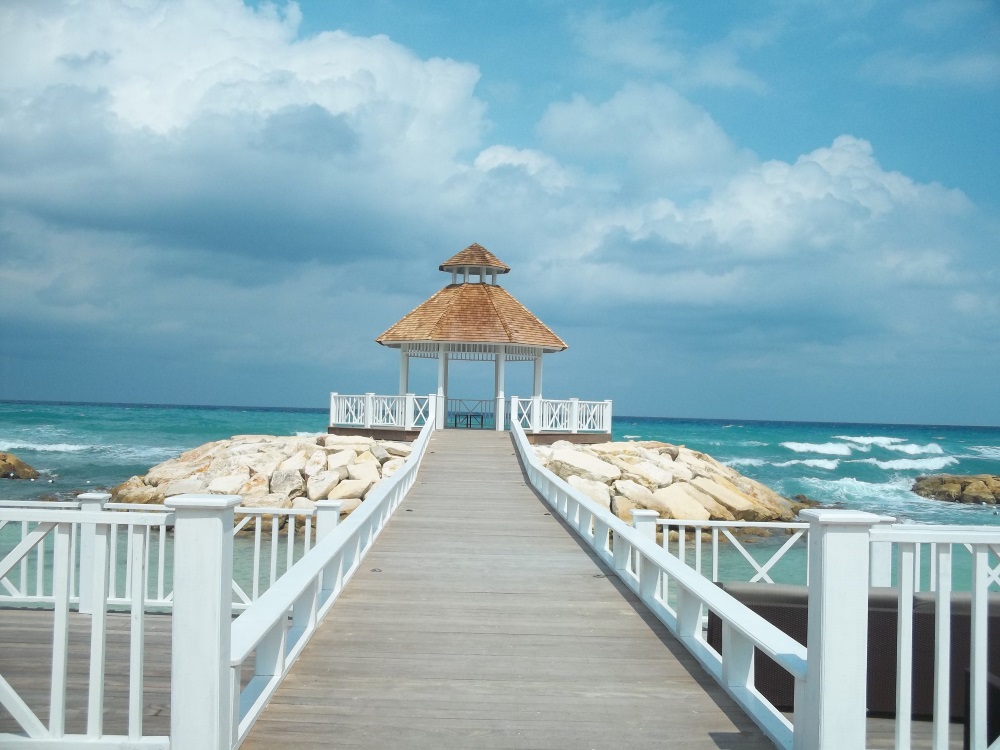 The pool was gorgeous, but a bit on the cold side. This too is normal for most all inclusives. Once you get in and adjust it is fine. The Zilara pool has multiple layers and includes ledges for chairs or sitting in the water. There is a swim-up bar and getting lounge chairs and towels were easy. Bali beds were also available, but often were reserved for those in butler level rooms.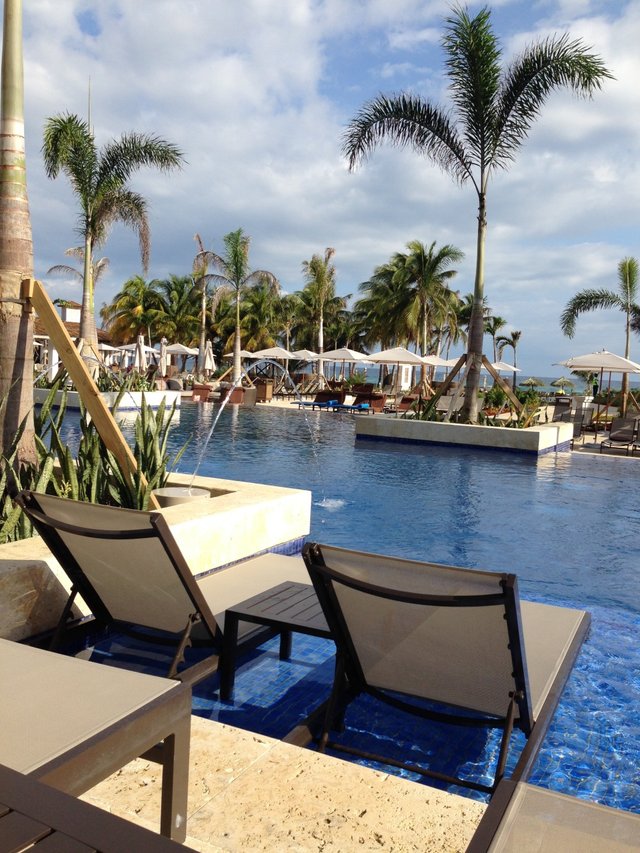 Zilara also offers swim-up rooms, and most of those connect to the main pool. However, I noted that many of those pools were shaded much of the day. Not so great if you want sun! On the family side, the Ziva pool is huge and includes quite a few bali beds. It is also the pool where the most activities occur. The Zilara side is quiet.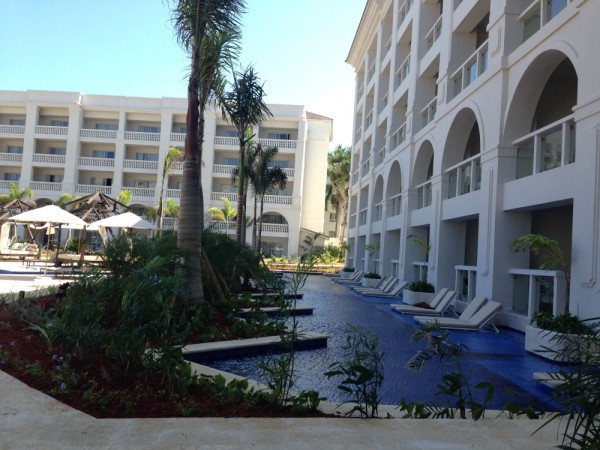 Restaurants
The food at the Zilara was outstanding. This was absolutely the best all inclusive food we have ever had. Food is important to me, and many all inclusive resorts lack in that department. But I read reviews obsessively and find the good ones. House wine, which normally is pretty substandard at all inclusive resorts was serviceable. Here are the restaurants that we tried:
Horizons: This is a seafood and international restaurant on the beach. I had a delicious surf and turf combo here with a thick steak and a nicely done Caribbean lobster tail. I ordered my steak rare and it was done perfectly. I had a very tasty flourless chocolate cake for dessert. For lunch,I loved the lobster mac and cheese.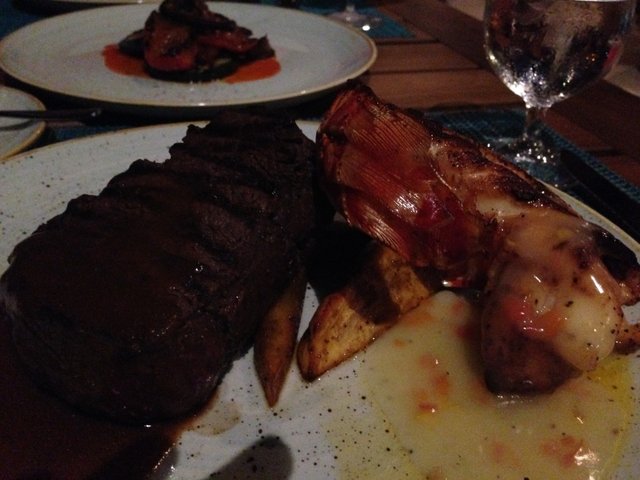 Barefoot Jerkz: This was a Jamaican jerk shack on the beach and was a highlight of the trip. It is the real deal in terms of properly slow cooked jerk meats (chicken, sausage, and pork) with sides of rice, beans, and plantain. Several sauces were available. The food was amazing! It is only open for lunch or early dinner.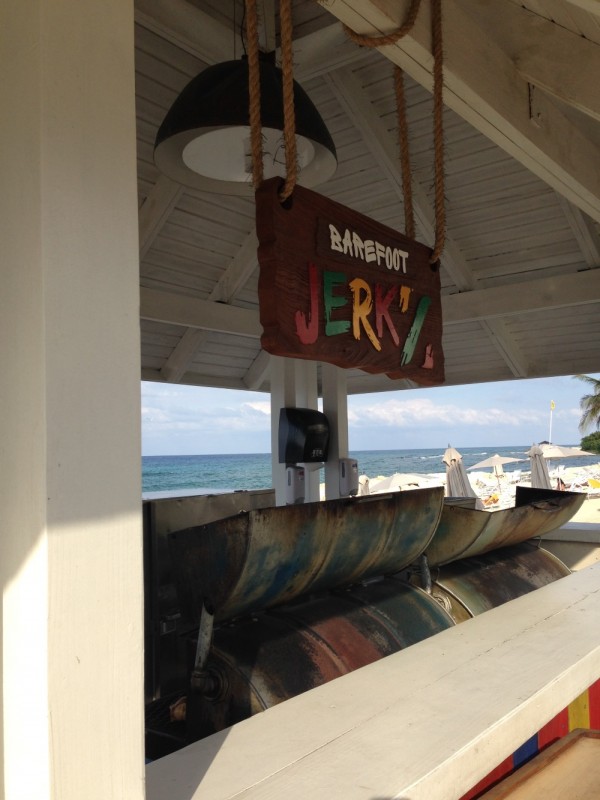 Petite Pariz: This is a French restaurant: I enjoyed Caribbean lobster medallions here and a scallop appetizer that was amazing. The escargo was also quite good.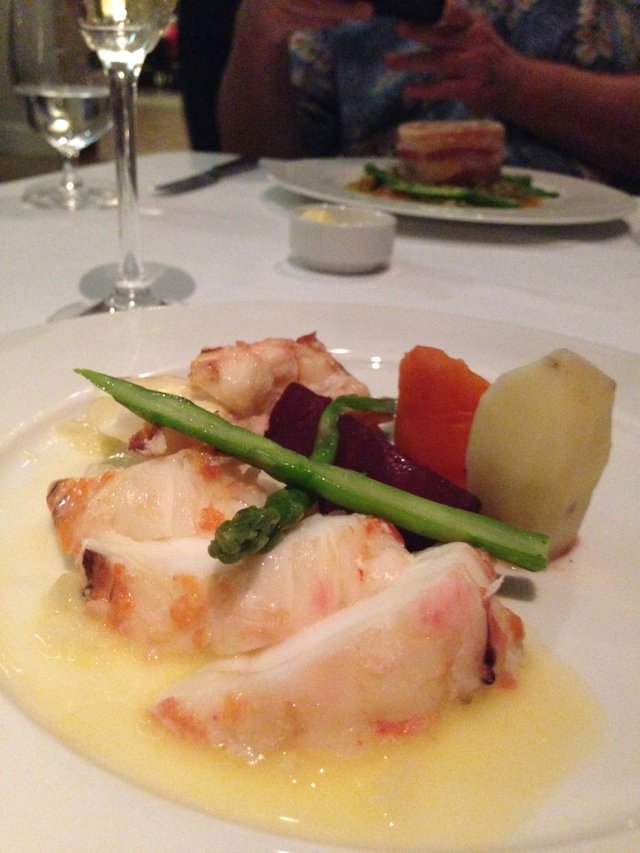 Flavorz: This is a local inspired restaurant in the lobby. We ate lunch here and enjoyed some local specialties. This was also a great place for a la carte breakfast. We loved the French toast and bacon! The Scotch Egg was a hit as well.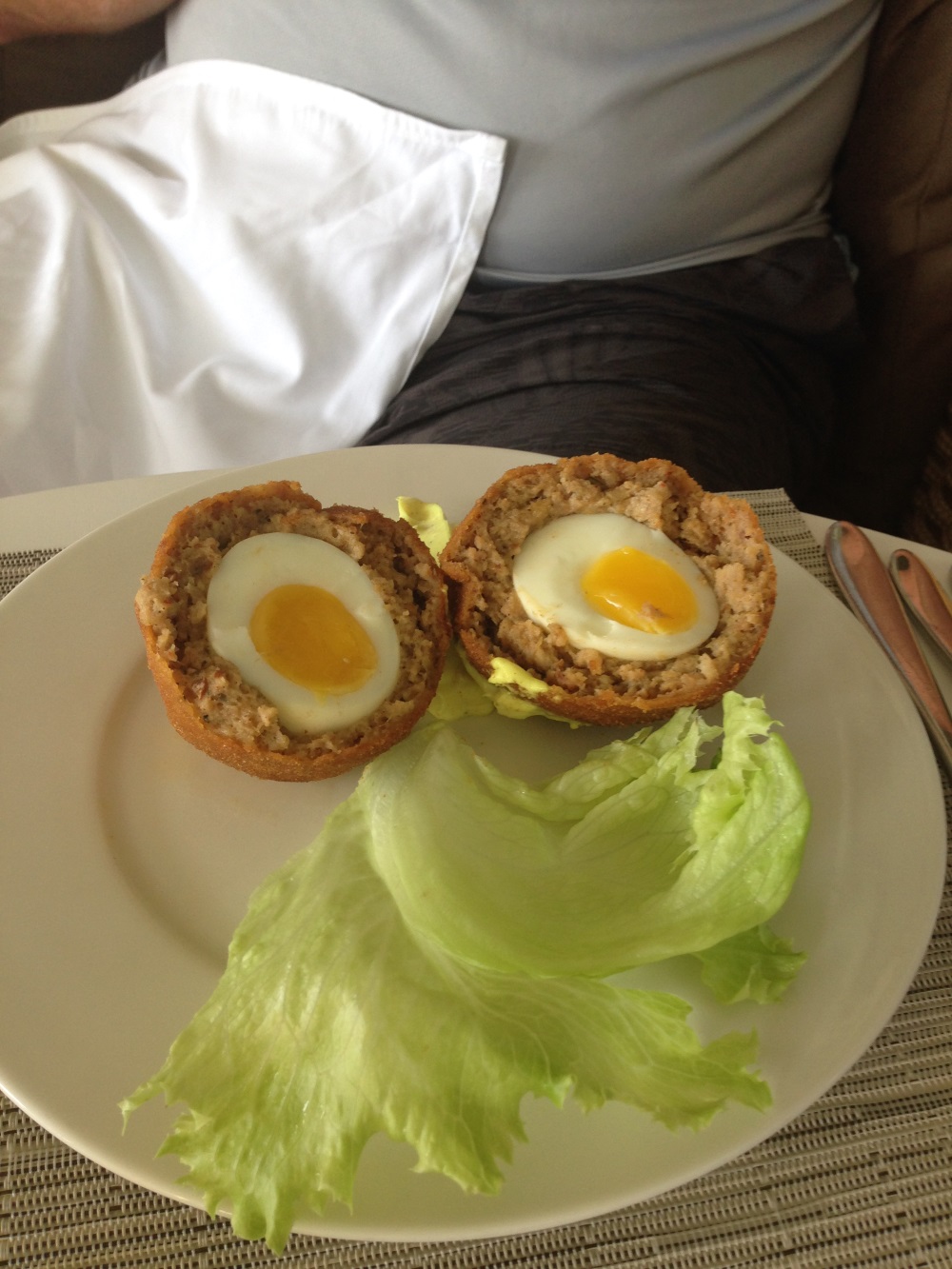 Brazil: This Brazillian steakhouse was fabulous. We had to wait a bit to get into it this one, but they gave us a pager, and we waited in the lovely Ziva lobby bar upstairs. The restaurant has a nice salad bar, and they bring a good selection of sides and carved meats. Those selections included chicken wings, pork, ham, filet, and sirloin. Grilled Pineapple was provided for dessert.
Di Roza: This is an Italian restaurant with a nice little antipasta buffet and a selection of Italian menu items and pizza. I was not thrilled with my lasagna. It was merely OK. The antipasta area was nice, and the pizza, which we did not try, looked quite good.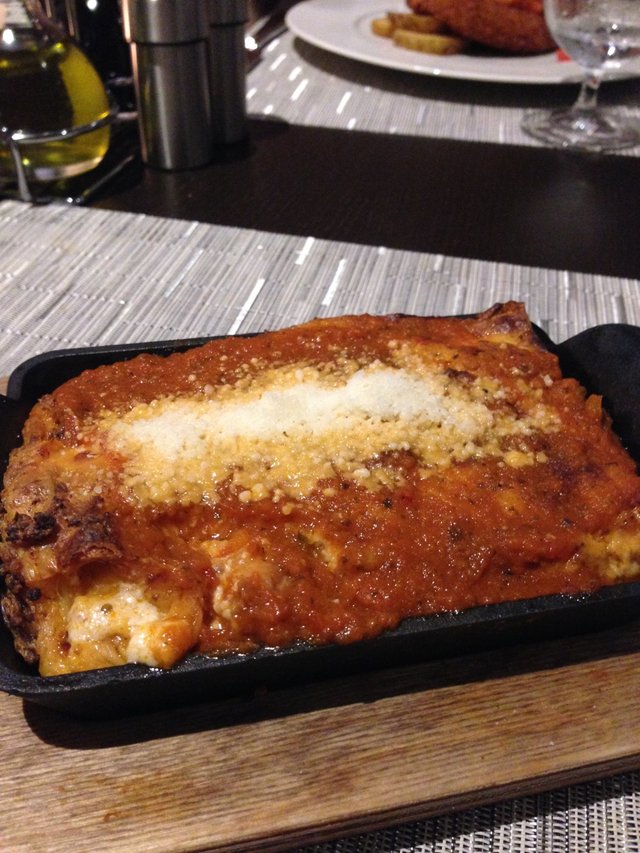 There were three additional restaurants that we did not get to: Calypzo, a Caribbean and seafood restaurant on the Ziva side with a menu similar to Horizons; Fuzion, an Asian restaurant with an interesting and varied menu, and; Choicez, which is the buffet. We also spotted a coffee bar and a sandwich shop on the Ziva side, both of which looked quite good.
Aside from the restaurants, the resort offered a few food carts. There was a crepe cart by the Zilara lobby open mid-morning to mid-afternoon where you could get custom-made crepes. A hot dog cart also made the rounds during the afternoon. My husband got a coconut from the tree trimmers, who handed them out and cut them open, and he had the bar add some rum to it.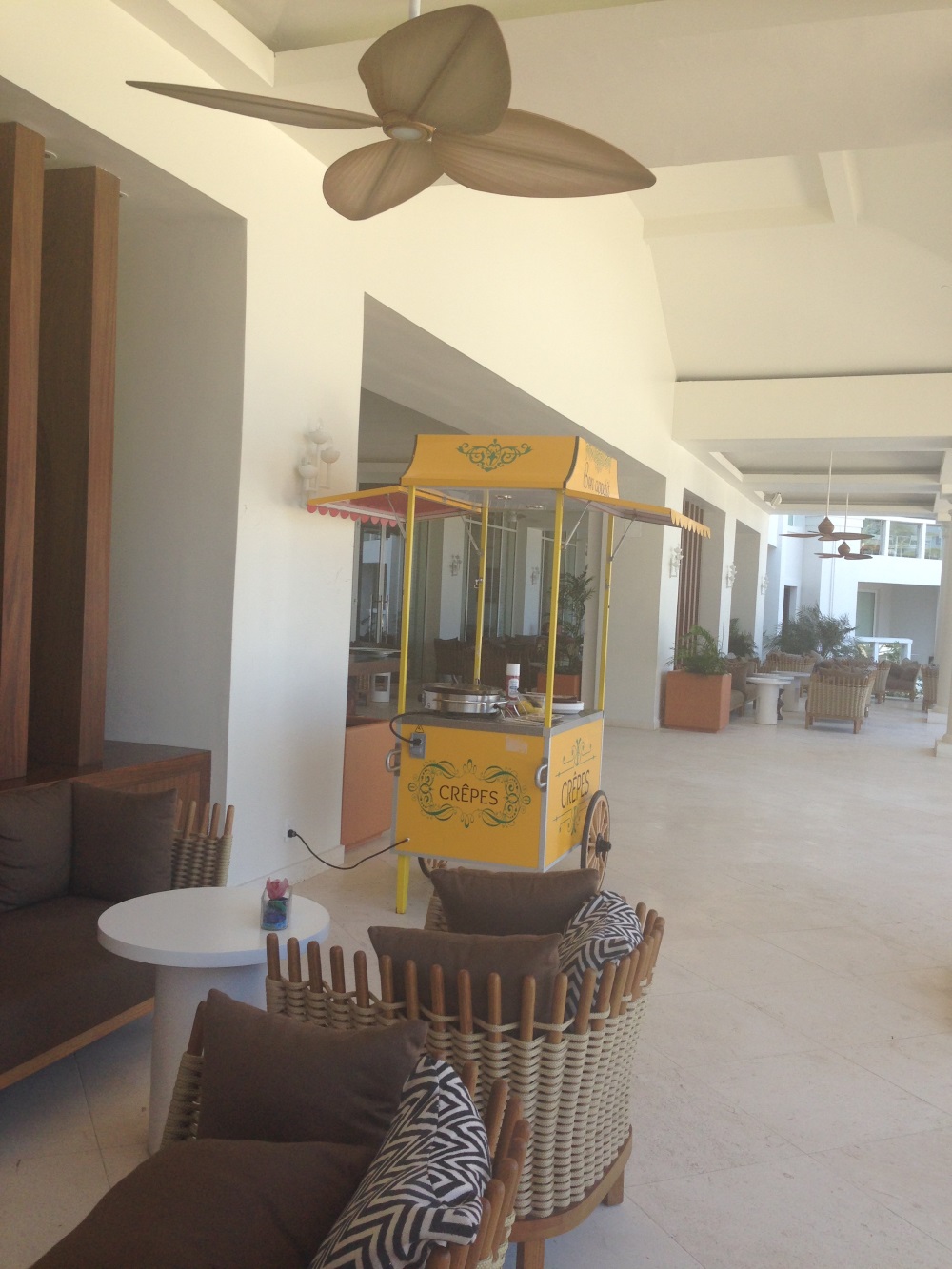 As for the bars, they all were generally outstanding. There was no skimping on alcohol. The best bars were the Fez roof top bar and the upper lobby bar at Ziva. The Ziva lobby bar is a beautiful piano bar in the older building that retained the original woodwork. It was also the best location to find top shelf liquor. The piano players were talented and entertaining. There was also a sports bar, Union Jackz, which was good for watching a game on TV.
Activities and Tours
The beach at the resort offers watersports with kayaking and sailing, and the staff will take people sailing on hobbie cats. Various pool games are offered at the Ziva pool such as water volleyball, aqua exercise, and other activities. But we never saw a schedule, which was a bit frustrating. Evening entertainment is located on the Ziva side. The shows are fine, but not to the level that I have seen at other all inclusive resorts. The stage is centrally located, but hard to see from many angles because of palm trees blocking the view and more chairs were needed.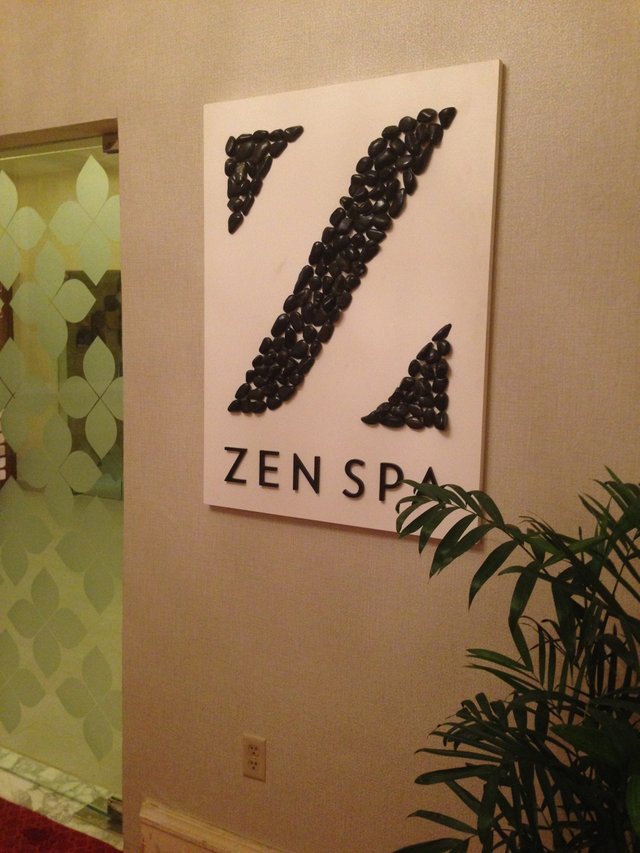 We did not use the spa, but there is one on the grounds and it looked nice. Tours are also offered and we took on to luminous lagoon, which is a bioluminescent area of water with micro-organisms that light up when touched. We loved it!
Overall Impression
Hyatt Zilara Rose Hall was definitely one of my favorite all inclusives. With the great food and ease of getting in and out, I would happily return to it!